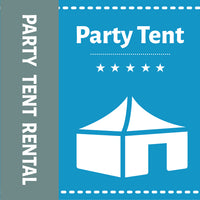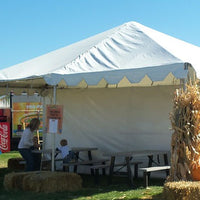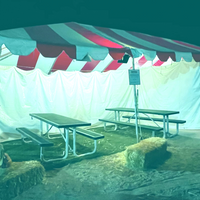 Lehi Party Tent Reservation 2023
Have a group and want a private meeting spot? Renting a party tent at our Lehi location only is a great option and popular choice for birthday parties, church groups, corporate gatherings, family reunions, etc.
Each tent is 20x10 feet and has two picnic tables. We have a total of 4 tents, all inter-connected. If you rent more than one, the walls will be pulled open to create one larger space. Upon your arrival, please let the info silo attendant know that you have reserved the tent. At that point, a sign will be posted indicating that the tent is reserved for you for a duration of 3 hours. 
You may bring in your own food when renting a tent, but there are no electrical outlets available for public use. Additionally, for the safety of all our guests, no outside cooking devices are allowed (i.e., propane burners, etc.) You can, however, bring supplies for roasting smores or hotdogs on our firepit. If you do bring in pizza or other bulky items that result in large amounts of trash, we ask that you please bring a trash bag to remove your trash so as not to overwhelm the trash cans in that area.
 RENTAL FEE: $49.95 per 3-hour rental period
* Tent rental fees do not include admission. Tickets must be purchased separately.
* Due to public demand for our firepits, we no longer offer private rentals on those. There is one adjacent to the party tents, however, that anyone is welcome to use.
* Party tent private rentals are only available in Lehi and not in Spanish Fork.