Lehi Events
Our flagship location has events for everyone, including a fireworks and light show, parades, duck races, magic shows and more!
Los Moralitos Thrill Circus
We're excited to welcome the Los Moralitos Circus daredevil stunt show back for the second year, traveling all the way from Illinois to perform their amazing adrenaline-pumping stunts! Be sure to catch one of their performances between:
September 22 - October 7
Mon-Thurs 5:45, 7:45 and Fri-Sat: 1, 4:00, 7:00
This show, making its appearance at Cornbelly's for the first time, is a hilarious presentation for the whole family and the dog lover in all of us. The spectacle stars rescued dogs that perform spectacular stunts and comical tricks as they show everyone who is really boss! Full of surprises and laugh-out-loud canine comedy, this performance appeals to kids and kids at heart! This is not only a show but a family fun experience. In every performance, the audience is invited to take part in the show and maybe even step up on the stage.

October 13-28
Mon-Thurs 5:00, 6:00, 7:00 and Fri-Sat: 12:30, 3:30, 6:30 pm
They say you can't watch ducks race without smiling! Come enjoy our racing ducks, traveling from out of state to wow us with their amazing show. 
Spanish Fork: October 3-14
Show Times: Mon-Thurs 5:45, 6:45, 7:45 and Fri-Sat: 12:00, 2:00, 4:00, 6:00 pm
Lehi: October 16-28
Show Times: Mon-Thurs 5:45, 6:45, 7:45 and Fri-Sat: 11:30, 1:00, 4:00, 5:30, 7:00 pm

Ventastic: Comedy Ventriloquist
Ventastic has been enjoyed by audiences of all ages in the Walt Disney Theatre aboard Disney Cruise Line with over 3500 performances for over 20 years!!! Michael Harrison is an extraordinarily talented ventriloquist, comedian and master showman who combines his many talents in this laugh out loud, one man tour de force. It's Fantastic Ventriloquism, it's VENTASTIC!

October 6-14
Mon-Thurs 5:00, 6:00, 7:00 and Fri-Sat: 12:30, 3:30, 6:30 pm
Twistical Light Show & Fireworks
Come check out our annual light show, with a brand new Twistical theme! Occurring each night in our new Kidsville location, this magical show is sure to delight with music, characters, amazing lights & imagery, and even fireworks!

In tribute to those who sacrifice so much, Cornbelly's has a tradition of giving back to Utah firefighters, police officers, first responders and active & retired military (including Reserve & National Guard) by providing a limited number of free or discounted admission tickets to these Hometown Heroes and their families (dependents) during our opening weekend. Typically we rotate between hero groups each season and this year are honoring our a-MAZE-ing firefighters. 
CLICK HERE FOR DETAILS ON FREE & DISCOUNTED TICKETS
.
2023: Firefighters

2024: Military
2025: Police
Here piggy, piggy, piggy. Come watch our racing pigs compete in our own version of the Pigtucky Derby! Get ready to hoot, holler & a few lucky audience members will even become a part of the show!
Monday-Thursday at 6 & 7:30 p.m.; Friday-Saturday at 12, 3, 6 p.m.
Come enjoy our magic shows each Monday night, complete with amazing illusions, comedy, juggling and more!
Mondays at 5:30 and 6:30
Come visit our one-of-a-kind Halloween night parade, featuring some of your favorite illuminated characters, giant skeletons, fire dancers, twinkling floats & more!
Mondays in October at 8:15 pm

Come watch our favorite square pumpkin come to life at this interactive puppet show where kids & adults alike will dance, laugh & enjoy the tale of Spookley the Square Pumpkin!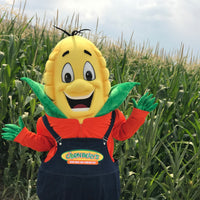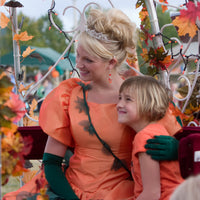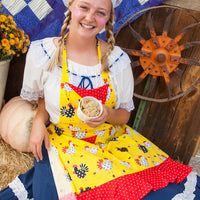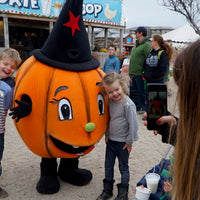 Come meet & take pix with our very own Kernel Cornbelly. Penelope the Pumpkin Princess, Cookie Coop Millie or Pumpkin Jack. You never know who you might meet on any given day!
Come watch our Scales & Tails interactive and educational animal show, perfect for any age.
Wednesdays at 5:30 and 6:30 p.m.
Join us for storytelling time in the Kidsville princess castle for daily storytelling with either our Pumpkin Fairy Godmother, one of our beautiful fairies or Penelope the Pumpkin Princess herself!

Mon-Thurs at 6:15 pm and Fri-Sat at 12:30 and 3:30 pm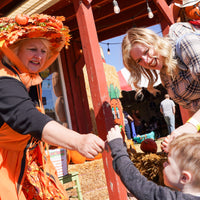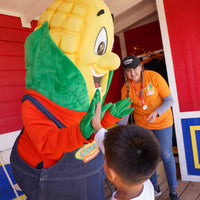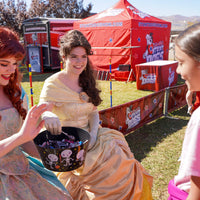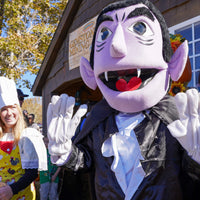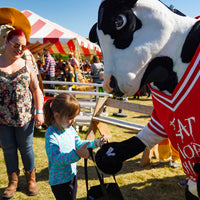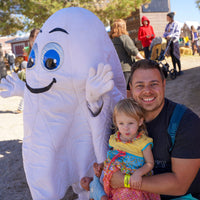 Bring your kiddos to enjoy trick-or-treating at our beloved day-time parade. Newly reimagined this year, visit nearly a dozen TREAT STOPS with Cornbelly & visiting characters, after watching a new, interactive parade through Kidsville...where you just might be one of the stars of the show! 

Saturdays in October, 2 pm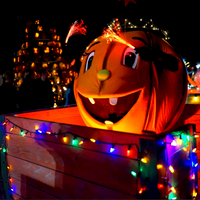 Halloween Bash & Pumpkin Smash
Come celebrate Halloween at Cornbelly's in Lehi and enjoy a variety of extra festivities, included in your admission! We'll be celebrating our favorite holiday with our annual pumpkin smash, a costume contest, pumpkin pie eating, trick-or-treating, night parade, Twistical light show and more.
Monday, October 30
Trick-or-Treat with Characters - 5:00 pm
Magic Show - 5:30 & 6:30 pm
Pumpkin Pie Eating Contest - 6 pm

Costume Contest - 7 pm (winner receives 4 free Luminaria tickets + a $50 gift card)
Insanity Point - open at dark
Light Up the Night Halloween Parade - 8:15 pm
Twistical Light Show & Fireworks - 8:30 pm
Plus, join us for our 10th-annual Pumpkin Smash. 
Don't trash 'em, smash 'em! It'll be a smash'em, bash'em kind of day at Cornbelly's! Come assist in the destruction of any unsold pumpkins or bring your own! Watch for a detailed schedule coming later in the season.